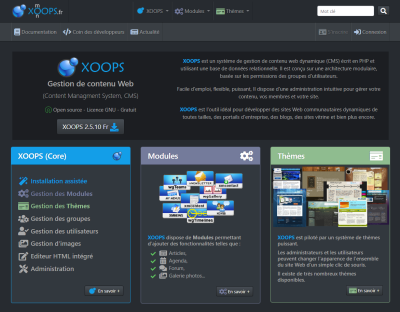 ==============================
Today is March 1, 2020 and the
official opening
of the
monxoops.fr
site. The URL address is:
https://www.monxoops.fr/
.
We have worked hard for 4 months to offer you a new approach to XOOPS, with original documentation, innovative design and fully adaptive (full responsive), up-to-date, quality elements and essential resources for all webmasters.
================
In the coming months, you will discover new sections that will reach a large audience:
- Webmasters
- Beginners
- Users
- Beginner developers
- Experienced developers
- Beginner designers
- Experienced designers
The details of these sections can be found on our very first article, on
https://www.monxoops.fr/
.
Enjoy your visit and have a great new experience!
For monxoops.fr, the current team, Greg and Alain
PS 1: No support is planned on monxoops.fr
PS 2: The team is open to welcome any welcome help